Conveyor Belt Mistracking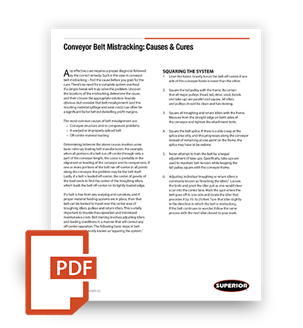 Causes & Cures
Any effective cure requires a proper diagnosis followed by the correct remedy. Such is the case in conveyor belt mistracking – find the cause before you grab for the cure.
Lessons Delivered:
Simple tweaking may be all you need
Most common causes of belt misalignment
Instructions on "Squaring the System"
Talk to an expert
Need more information? We'll get you in contact with a product expert in your area.